10月1日土曜日「
秋のプランツセール
」が開催されます。ランチョPVのサウスコースト植物園にて午前9時から午後4時まで。このプランツセールの入場は無料。同植物園の会員は前の晩のプリビューセール(前売り$20、当日$25, 5 - 7 pm)に参加でき、プランツセール商品を10%割引で購入できるそう。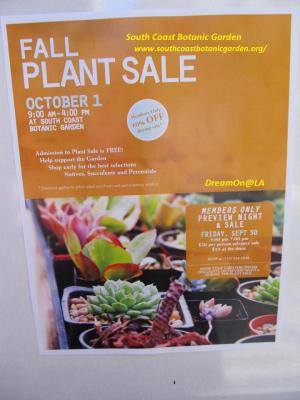 "Fall Plant Sale"
will be held from 9 am to 4 pm on October 1, 2011 at South Coast Botanic Garden, Rancho P.V., California. The admission to the plant sale is free. The SC Botanic Garden member can attend the preview night and sale on Friday, September 30, 2011 ($20 advance, $25 at the door, 5 to 7 pm) and get 10% off during the sale.
2週間前は胡蝶蘭のセールイベントがあったようです。これはミスしました。業者さんも参加しているので、いろんな種類の花やプランツが売られてるみたいです。
9月27日たまたま仕事関係のセミナーがこのサウスコースト植物園のイベントルームで開かれ、15分休憩中にちらっと散策してきました。同ガーデンのメンバーシップは6年前から維持してます。
They also had "Orchid Sale" event there two weeks ago, and I missed it. Many nurseries and vendors participate these events, so there will be many kinds of flowers and plants on sale.
On September 27, 2011, I happened to attend a work related seminar held in the event room at this botanical garden. I browsed around a little bit during the 15 minute break time. I maintain my membership at SC Botanic Garden for 6 years.
Fall Plant Sale Webpage
私の好きなラベンダーや薔薇の苗も売られるようです。楽しみです。。
It seems Lavenders and Roses I love will be on sale. I'm looking forward to it.
さて15分の休憩時間にさっと入り口付近を撮影しました。
I took some photos around the entrance of the botanic garden during the 15 minute break.
入り口付近左側の芝生のある所に立つ数本の木。
There are some trees in the lawn garden.
その木の上でリスがくつろいでました。
A squirrel was relaxing on a tree there.
ローズガーデンでは、
メキシカン・ブッシュ・セージ
が満開です。
Mexican Bush Sage
flowers are in full bloom at the Rose Garden.
ぱっと見るとラベンダーみたいです。
They look like lavenders at a glance.
ローズガーデン奥に、鷹が飛んで来ました。たぶん、こちらの
レッド・ショルダード・ホーク
。
A hawk came flying to the back of the Rose Garden. It's probably the "
Red Shouldered Hawk
" listed here.
奥に小さく見えるのが鷹です。
The one you see in the back of the Rose Garden is the hawk.
のどかで癒されます。15分休憩はあっという間に終了です。
It's relaxing and healing. 15 minute break went by so fast.
セレブリティー・ローズ
も満開でした。
Celebrity Roses
were also in full bloom.
メンバーシップ。
家族会員は年間$60です。今年2月末か3月にメンバーシップを更新しました。翌日LIVINGSOCIALで半額で出てたので、がっくしでした。。あと1日待てばよかったです。
Family membership is $60 per year. I renewed my membership at end of February or March this year. Then, the next day, LivingSocial was selling it at 50% off. I should have waited it for another day.
SC植物園メンバーシップ
SCB Garden Membership
South Coast Botanic Garden
26300 Crenshaw Blvd.
Palos Verdes Peninsula, CA 90274
tel:(310) 544-1948
GARDEN HOURS:
9:00 AM to 5:00 PM
(last ticket sale at 4:30 PM)
www.southcoastbotanicgarden.org/
Related Links /関連リンク:
世界同時花種まき★ Seeds of Hope Project
5/2/11
ホピ族の伝言★ Message from Hopi Nation
植物園で桜お花見★ Cherry Blossom@SCBG 2011
3/6/11
Japan Relief Related Links /日本支援関連リンク:
どこに寄付をしたら、どこにお金が行くのか
GIVE HANDS FROM LA
日本赤十字社
American Red Cross
JEMS-Help 4 Japan
てんつくマン「め組JAPAN」
桜、地球に感謝★ Cherry Blossom, Gratitude to Earth
3/24/11
X JAPAN 地震救援★ Yoshiki to Auction Piano
3/19/11
Thanks for reading this. I will appreciate for your clicking icons.
↓↓
 ←1クリックでまとめて応援 / 1 Click for All !